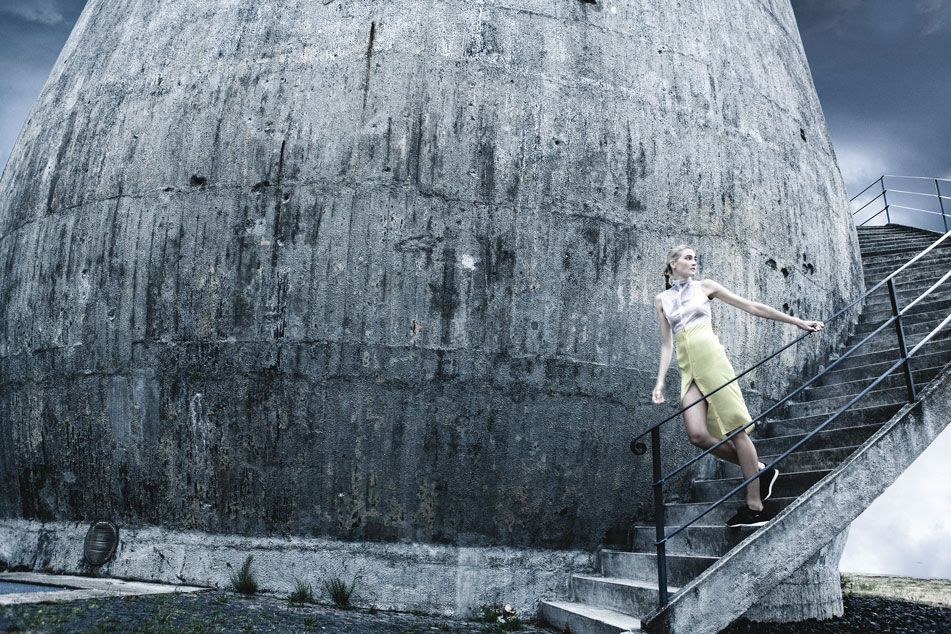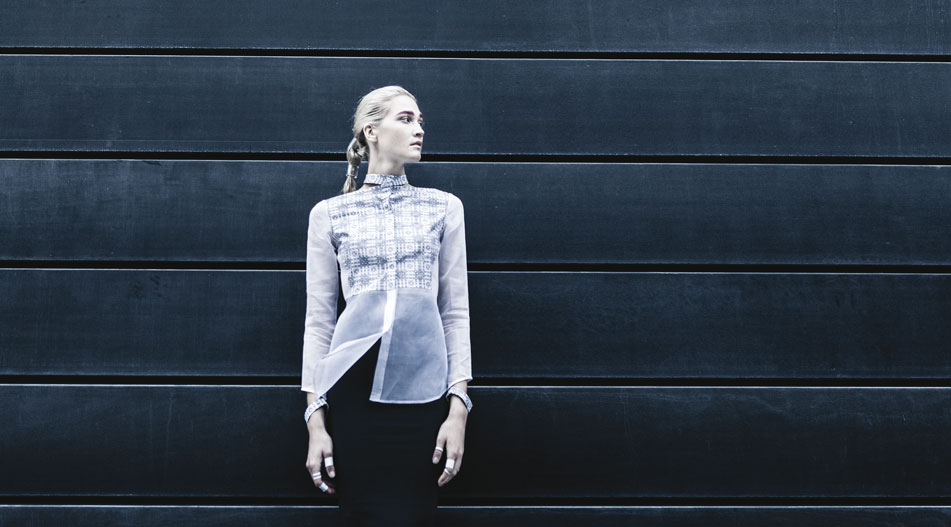 Coterie New York: Ones to Watch
Fresh faces and new lines to check out at the Coterie trade show in New York, Sept. 19 to 21 at the Jacob K. Javits Convention Center.
Signorelli
From Disney star to TV producer to fashion blogger — Ashley Tisdale has accumulated many of the buzziest job titles for this millennium. She now can add another: creative director for Signorelli.
The new venture for the former "High School Musical" actress entails overseeing the development of a sportswear line launching next fall to complement the $39 graphic T-shirts that the 10-year-old brand sells at Nordstrom, Fred Segal, Von Maur and Lord & Taylor. Along with Meredith Garrett, who passed the creative direction duties to Tisdale but retains the position of president and chief executive officer at the Huntington Park, Calif., company, Tisdale is envisioning the addition of layering pieces and bottoms that can be dressed up or down, with retail prices capped at $120. In the meantime, she led the charge to finding the photographer, casting the models and styling the jetsetter-themed look book for the 70-piece spring collection.
"I love being creative," Tisdale said. "I love to mix high-end and low-end."
Despite her lack of formal education in design, Tisdale grew up as the daughter of a fashion college graduate turned boutique owner. "I'm one who shops all the time," she confessed. "My knowledge comes from being a fan of fashion."
Garrett is an advocate of celebrity collaborations. She's partnered in the past with Nicole Richie to create T-shirts for charity. Although Garrett met Tisdale a couple of years ago, the two reconnected recently when Tisdale started floating an idea to start her own clothing line. By taking on the role of creative director, the 30-year-old actress joins other famous fashion-loving personalities, including Russell Westbrook, Kerry Washington and Cameron Diaz, who all aim to do more than lend their names and faces to clothing, beauty and accessories lines in exchange for hefty fees.
"I like that this is long-term," Tisdale said. "Every product I do is a piece of me. For a long time, I wanted a clothing line."
Not that Tisdale has much time to spare. Besides contributing to her two-month-old fashion site called The Haute Mess, she also serves as executive producer on the ABC Family comedy "Young & Hungry" and stars in "Clipped" on TBS and "Truth Be Told" on NBC.
"She wants to work for it," Garrett said. "It's not about her ego. She's really passionate about creating something that expresses herself."
— Khanh T.L. Tran
Michael Maven
Established in South Africa by sisters Nadia and Natasha Michael just 18 months ago, Michael Maven makes its second appearance at Coterie this year, exhibiting in the New Designers Section, aiming to build traction in the U.S.
"We've been in retail in South Africa, and it's a much smaller market, not as developed," Nadia said. "It tends to be risk-averse in terms of accepting and welcoming new brands."
The retail scene at home is dominated by mid- to mass-market chain stores, so it made strategic sense to target the U.S. market. Nadia and Natasha, who are in their mid-20s, described their working relationship as being a joint effort.
"We basically do everything together," Nadia said. "We decide what theme we want to go with in the design process, what our inspiration is and where we want to go with the line. We have our mood boards, then we go off on our own, but there's a point when we meet to conceptualize, then put everything together. We also edit together. We basically see the process through together."
Pared down classics with a sexy edge is this young brand's signature.
"The Michael Maven woman is very much strong and confident," Nadia added. "She's astutely aware of her presence. Our aesthetic is effortless and we tend toward minimalism. With this upcoming collection, we decided to be a bit more adventurous, so we will be showing prints this time, whereas previously we had more muted tones, we had more clean lines. This time, it's still the same Michael Maven, but with a slight departure."
Nadia handles the marketing aspect of the business, while Natasha takes the lead with regard to production. The line is produced in Italy.
After its debut at Coterie last year, the line, which retails from $200 to $850, was picked up by the Dash retail network, in addition to a smattering of independent boutiques in Brooklyn and the Dominican Republic. Kendall Jenner and Zendaya are among the celebrities who have been spotted wearing Michael Maven.
"We always like to give our wholesalers a good margin to play around with, so we normally give them a 2.7 mark-up to work with," Natasha said. "I think it's quite an accessible price point."
— Bambina Wise
Les Cinq
An Italian living in Paris, Les Cinq designer Lisa Traverso decided to start her own company after working for such fashion houses as Diesel, right after completing school in 2007, and Emanuel Ungaro, where she started after moving to Paris from her hometown near Venice, in 2009. She then spent two years working for Faith Connexion and has been a freelance consultant with Balmain and currently for Acne Studios.
Traverso started making gloves before expanding into a more varied sportswear collection. Living in Paris and regularly traveling gave her perspective on the contemporary women she saw around the world. Her customer is "looking for comfort and performance pieces, yet she's carrying sophisticated and fashionable gear that she adopts in her everyday looks."
With an interest in extreme sports, street trends and manga, her collection features performance fabrics and high-quality leathers for an on-the-go customer, who is "a leader in everyday life…an adventurous explorer with a sharp, curious mind."
Already selling at 10 stores in Italy and France, she aims to build global distribution through trade shows such as Coterie. Retail prices run from about $100 to $1,200.
Along with high-performance outerwear, Les Cinq offers base layers such as leggings, short-sleeve tops, zip-front jackets, dresses and jogging pants.
"The collection addresses the growing desire for a wardrobe that mixes and matches fashion with activewear and performance pieces that offer contemporary urban silhouettes," she said.
— Rosemary Feitelberg
Betro Simone
Stefanie Betro brings her early training as a ballerina and painter to bear when she designs her Betro Simone collection. Spaghetti straps and pieces with wrap closures that are typically worn by dancers feature in the line, along with painterly prints similar to Betro's own works in watercolors.
The Los Angeles-based brand, begun in late 2014, interprets the city's casual vibe with a decidedly contemporary spin. "L.A. has this typical Bohemian connotation," Betro said, "but there's a side that's modern and forward."
Betro favors simple, sexy cuts like halters and jumpsuits. "I was a ballerina for 15 years," said the designer, who was a member of the California Riverside Ballet. "I also have a painting background. I'm inspired by sculpture and art and organic textures and shapes."
Betro Simone in May was picked up by Nordstrom for 20 doors. "The collection sold out in the first two weeks," Betro said. "Now it will be carried in all Nordstrom stores."
Spring nods to the Seventies, but not the "Birkenstock Seventies," she said. "It's more of the late Seventies or early Eighties period of Polaroids and color saturation and Studio 54."
At her first job, Betro found that she had an affinity for working with novelty dyes. A coworker suggested that she take some art classes and she enrolled at the Fashion Institute of Design and Merchandising in Los Angeles. "It really helped me learn what colors will bleed and how they react to one another," she said.
Betro's foray in apparel design was for a company that made yoga and loungewear. She designed private label for Anthropologie and Urban Outfitters, then launched the Tina + Jo label in 2012. She left that brand to strike out on her own with Betro Simone.
Daniel Guez of Blvd Brands, who in 2004 introduced the premium William Rast denim line with Justin Timberlake, reps Betro Simone.
Betro keeps pieces light and breezy with modal spandex, crepes and rayon spandex. Shorts retail for $58; tunics, $88; minidresses, $78, and maxidresses, $135.
— Sharon Edelson
Kökler 
Kökler is a cross-cultural melting pot.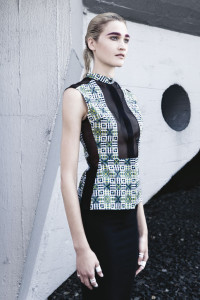 The collection's name, which means "roots" in Turkish, is designed by the multinational triumvirate of Emine and Hatice Sagdic, sisters of Turkish descent who were raised in Germany, and Kleant Stasa, an Albanian. The collection is manufactured in Italy using Italian fabrics.
The Sagdics met Stasa while the three were studying fashion design at AFOL Moda in Milan. After cutting their teeth at various design houses — Stasa at G.C.C Studio, Ports 1961 and Mila Schön, and the Sagdic sisters at Class Cavalli —  they launched Kökler in 2013.
Hatice works on the collection full time, while her partners devote about 25 percent of their time to the brand, she said. Emine lives in Switzerland and works for her boyfriend's jeans company, while Milan-based Stasa does tailoring for men's suits.
They start planning a collection by Skyping, but always meet in Como, Italy, where Hatice lives, to finalize the line.
For spring, the team focused almost entirely on shirts. For their theme, they chose Nur Banu, the influential wife of Selim II, Sultan of the Ottoman Empire. Born in Italy, Nur Banu was abducted and taken to the royal harem where she became the favorite of Selim II. She eventually became a cultural bridge between the Ottoman Empire, the Venetian republic and the duchy of Verona.
"She was very strong and intelligent. She influenced the harem, the military and the system of education," Hatice said, adding that Kökler created three shirt lines, each influenced by one of Nur Banu's strengths, naming them Harem, Nizam and Ilim. "We like a woman with strength, but we also like some fragility.
She said the interplay between a woman's two sides is achieved with fabrics such as cotton organza, satin and Egyptian cotton.
Kökler's fall 2014 collection was shown at Mercedes-Benz Fashion Week in New York as part of the Italian emerging talents show. The label will present its Nur Banu line at Coterie, followed by the Pizzini Showroom in Milan.
 Source: WWD