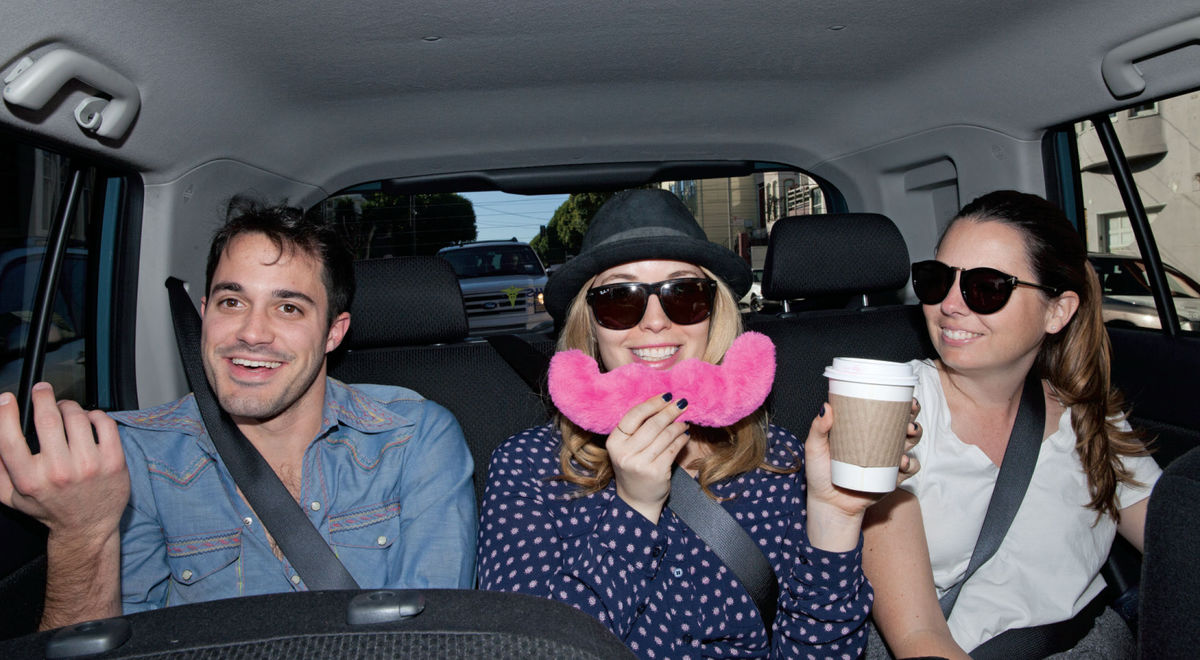 Transportation startups Uber and Lyft have long billed themselves as ride-sharing companies that, among other things, can reduce the number of cars on the road. The argument is that low fares make using such services cheaper and easier than keeping your own vehicle in a congested city. It's been a shaky claim, given that both companies have attracted new waves of professional drivers who typically carry only one passenger. Uber even helps would-be drivers secure auto loans, putting more cars on the road. In January the Associated Press banned the phrase "ride-sharing" to describe Uber or Lyft, concluding that their services were closer to "ride-hailing" or "ride-booking." Or, you know, a taxi.
Now both companies are testing services that might finally fulfill their greener promises. UberPool and Lyft Line, available in a handful of cities, match two sets of riders heading in the same direction and charge them a reduced fare. This kind of carpooling, hardly a new idea, may play a major role in the outcome of the San Francisco companies' furious competition against each other and the $11 billion traditional U.S. taxi and limo industry. "I do think this is the future of ride-sharing—the actual sharing of rides," says Harry Campbell, an Uber and Lyft driver and author of The Rideshare Guy, an industry blog. "They can lower the price and make the business accessible to people who may not have taken a ride before."
The services, though easy to use, are complicated and potentially expensive to operate. A rider must select the carpooling option on her Uber or Lyft app and enter a destination. While a nearby driver picks her up, the app's algorithm searches for another passenger whose journey falls along the same path. If a match is made, the two passengers split the fare for the time they share the car. In theory, this option can halve prices for riders while also earning drivers more money per (longer) ride. But when passengers select the carpooling option and end up riding solo, Uber and Lyft still give them the discount and pay drivers the rest of what they would have made for the full fare. Uber cited this system, and its coming expansion, as one reason it raised $1.6 billion in convertible debt on Jan. 21.
Lyft, which was founded in 2010 as an intercity carpooling service called Zimride, says the idea behind Lyft Line has been central to its mission all along. "Our initial product, classic Lyft, was designed to create liquidity in every market as the foundation we need to support a world where every driver on the road can be a Lyft driver," says Logan Green, the company's co-founder and chief executive officer. "Now we get to play that next card and start matching up people to take rides." He says one-third of Lyft rides in San Francisco are now shared.
Green argues that his company, with its signature pink mustaches and ritual of friendly fist bumps between drivers and riders, is better positioned to capitalize on real ride-sharing. "We have created an environment where people actually want to and enjoy sharing rides, whereas Uber is about having your own private space," he says.
Besides operating in San Francisco, Lyft Line and UberPool are running in New York. The Lyft carpool is also available in Los Angeles; the Uber version, in Paris. Drivers and riders say UberPool lags Lyft Line in popularity, but Uber is taking steps to change that. On Jan. 23 it offered San Franciscans a $5 flat fee per ride using its carpool service. "We are still very much in the ramping-up phase, though it is going very well," says Jeff Holden, Uber's chief product officer. During commuting hours, he says, Uber is pairing riders for 80 percent of UberPool trips between San Francisco's residential Marina neighborhood and the South of Market business district, an area dense with startups.
So far, the services seem to appeal primarily to younger riders who have time to spare and are willing to navigate clumsy chitchat with a stranger. Benji Hyam, 27, is a San Francisco tech worker who began using Lyft Line in the fall for the discount, betting he wouldn't get matched with another passenger. The first time he was paired up, he says, he panicked and canceled the car before it arrived. The next time he sat with the other person in stony silence, staring at his phone, until the driver said "this is super awkward" and ordered them to talk to each other. That led to an exchange of business cards and a meeting about a potential partnership between their companies, Hyam says. Now a convert, he takes Lyft Line three times a week and recently decided to leave the Mazda hatchback he'd been keeping in the city at his parents' home in San Diego. "Every single person I have gotten in the car with has been interesting in some way," he says.
Drivers are also enamored of the serendipity that can accompany a shared ride. Sharlett Downing, a high school counselor in Woodside, Calif., who drives for Lyft in her spare time, says one pair of passengers turned out to be old friends from high school and ended up embracing in her back seat. Another pair who didn't know each other hit it off so well, they chose to get out at the same place. "It gave me chills," she says. "It constantly shows me how small even a big city can be."
Lyft and Uber still have a lot of work to do to prove they can build a business on true ride-sharing. What works in San Francisco may not work in cities with fewer adventurous young riders. Interviews with drivers also suggest there's widespread confusion about whether they get paid more for shared rides or if their pay is reduced when they have to wait for a carpooler. "A lot of the rules aren't very clear," says Campbell, the industry blogger. And for people just looking for a cheaper ride, there may not always be much reason to switch from going alone. To compete with cab companies and each other, Uber and Lyft are aggressively lowering the prices of their basic services in many cities, often to half the charge of a traditional taxi.
Yet as the companies vie for market share, working to fulfill their original promises to improve the environment and mitigate traffic jams may have added benefits. "If you can roll this out in a city like Beijing and reduce traffic by half, that would be a game changer," Uber's Holden says. Drivers see the potential, too. "If you are getting more drivers off the streets and making driving more efficient, that is a beautiful thing," says John Donohie, a former high school teacher who drives for Uber. "In the grand scheme of things, that is more important to me than making a few bucks."
By: Brad Stone
Source: Bloomberg