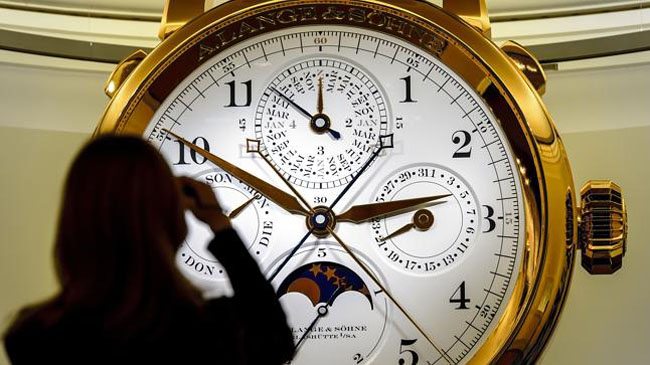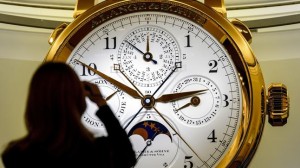 GENEVA — A decade ago, Nick Hayek, chief executive of the Swatch Group, and Bill Gates, co-founder of Microsoft, introduced in New York a new kind of watch called the Paparazzi. It was presented as the pioneer of the so-called smartwatch, giving the wearer access to news, stock quotes and other data via Microsoft's MSN service.
But the Paparazzi proved a flop. And the joint venture between the world's largest watch maker and the software giant was broken off.
Since then, watchmakers have been biding their time. They have stood on the sidelines over the past year as consumer electronics companies like Samsung and Sony rolled out smartwatches that enabled people to read text messages and emails, and in some cases make phone calls and take photos, directly from their wrists.
Last week, Google introduced a new version of its Android operating system software made for smartwatches, amid speculation that Apple was also set to enter the wrist wars soon with a product that industry followers have already dubbed the iWatch.
Growing interest in smartwatches by consumers and technology companies might seem a perfect opening for the industry that really knows watches: the makers of fine Swiss timepieces. But for various reasons, none of the Swiss industry leaders seems committed thus far to combining diamond bezels with digital bits.
Even following Google's announcement last week, Mr. Hayek sounded wary — and certainly not keen to revive the kind of alliance struck with Microsoft, which he said left Swatch with plenty of unsold Paparazzis.
The smartwatch products developed by Google and others, in Mr. Hayek's view, raise several problems compared with traditional mechanical watches. The drawbacks, he said, include their limited battery life and the fact that they are "trackable" by the National Security Agency and other intelligence services.
"People don't want these complications," Mr. Hayek said during a news conference last week. Instead, he said, "watches remain a piece of jewelry."
The watch industry gathers in Basel, Switzerland, on Wednesday for the weeklong Baselworld watch and jewelry convention. So if any surprise smartwatch announcements are imminent, that might be a logical forum.
So far, however, watch executives have been noting the price gulf between smartwatches that sell for hundreds of dollars, and luxury-brand mechanical watches that generally cost thousands — even if some of those same executives welcome the idea that products like Samsung's Galaxy Gear, introduced last September, are making people focus more on wristwear.
"The arrival of Samsung and others will not hurt the luxury watch sector, and there is in fact room for everybody," said Richard Mille, founder of the watch company that bears his name.
Mr. Mille drew an analogy with the car market. Electric engines and other technological advances, coupled with efforts by governments to limit speed and fuel emissions, had not reduced demand for gas-guzzling sports cars.
"With all these speed and other restrictions, it should have made it much harder to sell such cars," Mr. Mille said. "But I don't see that people have decided to stop buying Ferrari, Porsche or Maserati."
About 1.9 million smartwatches were shipped worldwide last year, almost two-thirds of which already operated on Google's Android system. That was up from 300,000 in 2012, according to research from Strategy Analytics, a technology consultancy based in Boston.
Matt Wilkins, director of Strategy Analytics, said the smartwatch market was "starting to take shape" with "huge scope" for growth.
Traditional watchmakers, however, say it is too soon to predict seismic changes for their part of the industry.
"It's the young people of today who will decide tomorrow whether the traditional watch really is in danger or not – and it's very easy to get that forecast wrong," said Jean-Marc Jacot, chief executive of Parmigiani Fleurier.
As an example of a miscued forecast, Mr. Jacot said that "the arrival of the snowboard was supposed to kill traditional skiing, but that's clearly not what's happened."
In fact, some watch executives contend that their super wealthy clients are reaching a saturation point in embracing new technologies — similar to the way they are looking to eat artisanal organic food amid concerns about agricultural industrialization.
"We're arriving at a stage where people are getting tired of technological machines, because I think they are invasive," said Philippe Léopold-Metzger, chief executive of Piaget. "If I go out at night or am invited to a dinner, I don't take my phone with me."
Christian Knoop, the chief designer of IWC, another watchmaker, said "people are seeking a counterbalance to abstract digital products and are instead fascinated by a product that is made in factory that has been there more than 140 years, by craftsmen who are sometimes from the second or third generation."
Mr. Knoop, who previously designed aircraft interiors, consumer electronics and furniture, said that "people have really got a lot of trends wrong because however good the technology gets, there is still a lot of human behavior and psychology involved." Headsets, for instance, offer "clear functional advantages," he said, "but haven't replaced the behavior of actually touching and using a phone."
The watchmakers' wariness may have something to do with their industry's turbulent history in recent decades. In the 1970s, Japanese companies flooded the market with quartz watches that pushed the Swiss watch industry to the brink of collapse — including Swiss makers that unsuccessfully attempted to switch to the cheaper quartz timepieces.
But Mr. Hayek's father then took over and merged two struggling manufacturers and revived the whole Swiss industry with the introduction of the inexpensive Swatch watch. The fashion frenzy generated by the colorful plastic Swatches in turn required the group to develop mass volume production, also making it the dominant player in watch component manufacturing.
These days, the Swatch Group has a broad product line that still includes its inexpensive Swatch brand but also luxury brands like Breguet and Blancpain. Last year, Swatch made its biggest acquisition to date by buying the watch and jewelry business of Harry Winston for $1 billion.
Given Swatch Group's breadth, some other prestige-brand watchmakers say the company may be well poised to jump into the smartwatch segment.
"Swatch has got massive development potential, great labs, so I'm surprised they're not somehow competing with Samsung," said Mr. Jacot, the chief executive of Parmigiani Fleurier.
But Swatch is still smarting from its Microsoft experience. "We don't try again to be the first one to go out there," Mr. Hayek said.
Jon Cox, a watch analyst at Kepler Cheuvreux, a brokerage firm, said it was hard to see this first generation of smartwatches hurting Swiss watches that retail for more than $1,000 — which is 90 percent of the Swiss industry.
But in the longer term, Mr. Cox suggested that Swatch could change tack again if the second generation of smartwatches triggered a consumption boom.
"If the market takes up, you can bet Swatch will get involved," Mr. Cox said.
Few other Swiss brands are likely to follow, though.
Jean-Claude Biver, a former Swatch executive who now heads the watches division of LVMH Moët Hennessy Louis Vuitton — which owns TAG Heuer, Zenith and Hublot — said the problem for Switzerland's watch industry was not uncertainty over the growth of smartwatches but the fact that this nascent sector was incompatible with the marketing and production strategy that underpinned the luxury watch industry.
"It's not surprising that almost nobody in this country is talking about the smartwatch," Mr. Biver said, "because its development is fundamentally opposed to the big Swiss obsession, which is to keep control on Swiss-made production.
"We can't talk about our craftsmen working by hand," he said, "and at the same time talk about the electronics of the future, which has nothing to do with our line of business and Switzerland."
By Raphael Minder
Source: The new York Times