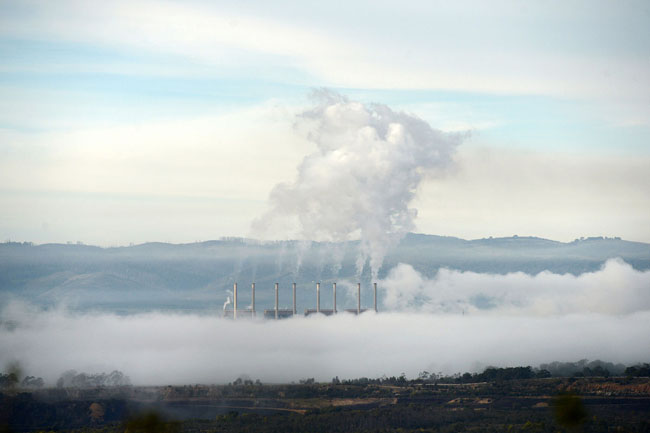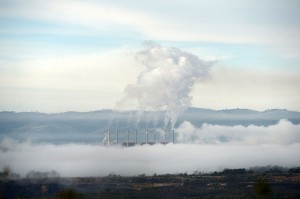 Australia's program to rein in pollution is losing momentum, the latest in a series of setbacks for the international effort to tackle global warming.
With the highest per-capita fossil fuel emissions among industrial countries, Australia's participation in United Nations-led climate talks is seen as crucial to sway China and India to step up pollution controls even as developed nations backslide. Now, Australia's environmental stance is undergoing an about-face as the country's new government and its political opponents haggle over the best way to dismantle earlier regulations.
The shift in Australia comes just ahead of a series of global climate talks set for later this year. The UN is aiming to craft an agreement in 2015 that would include 190 nations. That pact would limit emissions in both industrialized and developing nations for the first time. Yet China and India have signaled their reluctance to join without broad participation from richer industrial nations, including Australia.
"It feels like a 180-degree turn for Australia," said Jake Schmidt, director of international climate policy at the New York-based Natural Resources Defense Council. "That's the hardest thing for the international community to take."
Closer to home, environmentalists worry that the new government's stance will set back years of effort to rein in pollution.
'Fundamental Challenge'
"There is a likelihood of Australia becoming a climate policy wasteland," said John Connor, chief executive officer of The Climate Institute in Sydney. The country's unforeseen budget crunch, leading to proposed spending cuts and a levy on higher incomes, is hurting the goverment's popularity, he said. "The budget drama is significantly diminishing the authority of
the goverment and emboldening opponents across the spectrum."
The Australian government sees things differently. Yes, it wants to do away with world's highest priced carbon permits, which allow companies to emit greenhouse gases. The A$24.15-a-ton ($22.28) fee is levied on more than 300 companies from Chevron Corp. to Rio Tinto Group (RIO) and is almost four times the charge for allowances in Europe.
Yet Prime Minister Tony Abbott, fulfilling a campaign promise, has vowed to replace the levy with an alternative that he says would still effectively reduce emissions. His plan, though, is under attack by Clive Palmer, the mining magnate turned politician who controls three critical seats in Australia's senate. While Palmer also wants to do away with the carbon levy, he is opposing Abbott's program, arguing it's a waste of money.
Carbon Vote
"Uncertainty about the carbon price is increasing as we get closer to the new Senate being seated in July," said Martijn Wilder, head of the climate-change practice at Baker & McKenzie in Sydney. "Palmer and others will use this as a bargaining chip, when there really should be a serious debate about Australia's fundamental climate policy."
Abbott's alternative to the carbon price, called Direct Action, consists mainly of taxpayer funded grants to companies and projects that reduce emissions. Greg Hunt, Abbott's environment minister, sees the plan as a cost-effective way to meet Australia's promised 5 percent reduction in emissions by 2020. The government has budgeted funds to start Direct Action on July 1, Hunt said in an e-mail.
"We won't stop until the carbon tax is repealed and Direct Action is implemented," Hunt said.
While companies have questions about how Direct Action would work and whether it will be approved, many will consider applying for funds, said Peter Castellas, CEO for the Carbon Market Institute in Melbourne, a group with about 60 members seeking market-based solutions.
Global Effort
At an information forum this month in Melbourne, all six company representatives on one panel said they will consider participating in the Emissions Reduction Fund that would be set up under Direct Action, Castellas said.
"Australia is expected by the UN and its trading partners to be proactive in climate negotiation," said Castellas. "That has raised expectations that Australia will actually be contributing to the global effort. There will definitely be scrutiny."
Scientists warn that the Earth is on track to warm more than 2 degrees Celsius since the industrial revolution, the fastest shift since the last ice age ended about 10,000 years ago. Japan and Canada have renounced greenhouse gas limits under the 1997 Kyoto Protocol, which applied to only industrial countries. Countries such as Germany and Poland are burning more of the dirtiest form of coal.
Now the push is on to get global climate change policy back on track. Abbott's plan is in the spotlight because he's hosting meetings of the Group of 20 nations this year. The November G-20 leaders summit in Brisbane comes two weeks before envoys from around the world gather in Peru for the annual UN climate talks.
G-20 Agenda
The U.S. has encouraged Abbott to include climate change on the G-20 agenda. UN Secretary General Ban Ki-moon has asked world leaders to bring plans for action on climate to a summit in New York in September. The U.S. and China, the world's two biggest polluters, have started diplomatic coordination on the issue, and Europe is expanding the world's biggest carbon market.
"Australia risks being embarrassed by global leaders who are determined to take action, like German Chancellor Angela Merkel and U.S. President Barack Obama," said Kobad Bhavnagri, the Sydney-based head for Australia research at Bloomberg New Energy Finance.
Even some prominent members of Australia's business community are urging Abbott to stay the course on tough greenhouse gas emission standards.
"Australia is now being positioned very definitely on the wrong side of history," said Ian Dunlop, former chairman of the Australian Coal Association and former CEO of the Australian Institute of Company Directors. "Paying polluters to reduce their emissions is morally and ethically flawed."
By Mike Anderson
Source: Bloomberg