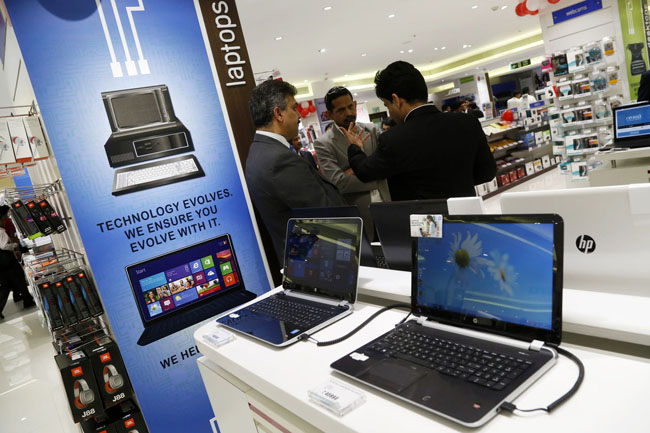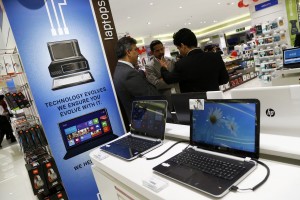 Chief Executive Officer Meg Whitman, still struggling to turn around Hewlett-Packard Co. (HPQ), is opting for more job cuts, a move that boosted shares the most in six months.
After reporting an 11th straight quarter of declining sales, Whitman is propping up profit by paring as many as 16,000 more employees, on top of 34,000 already announced. While she has stabilized Hewlett-Packard after years of management upheaval and presided over a 39 percent share climb since taking over in 2011, the company is facing its third straight drop in annual revenue.
Consumers are buying fewer personal computers and printers as they embrace smartphones and tablets, and companies are opting to use more software via the Internet or building their own machines. By shedding workers, Whitman is lowering expenses, which will free up cash for investment in new businesses and enable her to report better profit.
"It clearly gives them more cushion to work on the revenue growth," said Abhey Lamba, an analyst at Mizuho Securities USA Inc., who has the equivalent of a hold rating on the stock. "It's going to be challenging to deliver that revenue growth."
Profit excluding certain costs in the period ended April 30 was 88 cents a share and revenue fell 1 percent to $27.3 billion, the Palo Alto, California-based company said in a statement yesterday. Analysts had on average predicted profit of 88 cents and sales of $27.4 billion, according to data compiled by Bloomberg.
Seeking Growth
Hewlett-Packard shares gained 5.5 percent to $33.54 at 11:46 a.m. in New York, the biggest intraday increase since Nov. 27. Through yesterday, the stock had been up 14 percent so far this year, compared with a 2.4 percent gain in the Standard & Poor's 500 Index.
Net income in the fiscal second quarter rose 18 percent to $1.27 billion, or 66 cents a share, from $1.08 billion, or 55 cents, a year earlier. The company's one percent year-over-year revenue decline in the second quarter was the closest it's come to growing since 2011.
The company's 1 percent revenue decline in the second quarter was the closest it's come to growing since 2011. Sales shrank 1 percent in the first three months of the year and analysts are predicting they will fall by the same amount again in the current period.
"We want to become a growth company — this is the second quarter of basically flat revenue," Whitman said in an interview yesterday."While you may say that's not very exciting, it's way more exciting than the historical declines we've had for the last eight quarters. The fact that we're stabilizing revenue is encouraging and positions us well for the future."
Final Cuts
The job cuts announced yesterday don't reflect worsening demand for the company's products, the CEO said on a conference call. Whitman said she doesn't anticipate the need for further cuts. Hewlett-Packard had 317,500 employees at the end of October.
For the third quarter, Hewlett-Packard forecast that profit, excluding amortization, restructuring charges and other costs, will be 86 cents to 90 cents a share. That compares with the average analyst estimate for 90 cents.
Industrywide global PC shipments dropped in the first three months of 2014 as consumers in emerging markets opted for smartphones and tablets, while corporate demand helped slow the pace of decline. Quarterly shipments fell 4.4 percent to 73.4 million units, IDC said. Hewlett-Packard's market share rose to 16 percent, making it the No. 2 vendor after Lenovo Group Ltd., Gartner Inc. said last month.
Real Gains
Second-quarter revenue in the personal-systems unit, which includes PCs, rose 7.4 percent to $8.18 billion, boosted by sales of business computers. Printing-division sales fell 4.3 percent to $5.83 billion.
One of Silicon Valley's oldest companies, the manufacturer's product range spans from PCs and home printers to the servers, networking gear and software used by corporations. Hewlett-Packard has fallen behind in mobile computing at a time when consumers have migrated to smartphones and tablets made by Apple Inc. and Samsung Electronics Co.
Hewlett-Packard's enterprise-computing unit, which includes servers, had sales of $6.66 billion. Within that division, revenue from servers based on Intel Corp. technology rose 0.8 percent. Storage sales were down 5.7 percent, while networking revenue climbed 6.5 percent.
The enterprise-services division posted a 7 percent decline in sales to $5.7 billion.
"I don't know that we've seen much that makes one feel that they can actually grow again," said Rob Cihra, an analyst at Evercore Partners Inc. He has the equivalent of a hold rating on the stock.
By Ian King
Source: Bloomberg